Switching devices acc. to UL489, UL508, UL1077 and CSA-22,2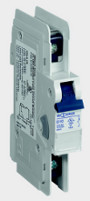 ABL SURSUM presents electrical installation in industry applications with the focus on the North American standards according to UL and CSA.
ABL SURSUM is a traditional family-owned company with more than 90 years of experience in developping and exporting products according to UL and CSA all around the world. The extensive range includes products according to UL489, UL508 and UL1077 for modern DIN-rail installation. Combined with the wide range of accessoires, ABL SURSUM offers a flexible system to create state-of-the-art individual solutions.
---