Accueil
>
Flexibar : flexible Kupferverbindungen
ERIFLEX FLEXIBAR Flexible Insulated Busbar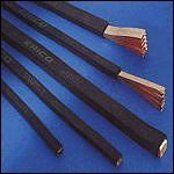 ERICO's ISO 9001 certified quality control procedures and proprietay automated manufacturing processes have made ERFLEX FLEXIBAR the preferred conductor for panelboard designers and assemblers throughout Europre ans the Americas. ERIFLEX FLEXIBAR has many years of proven low voltage application success throughout the world.
Features


ERIFLEX FLEXIBAR consists of a stacj of tinned electrolytic copper laminates pretected within a durable PVC insulation


Internal copper laminates are free to slide within the insulation, offering unlimited twisting and bending possibilities for panelboard assembly.


Terminals are created by punching ERIFLEX FLEXIBAR laminates for optimum surface to surface connectivity


The cost of lugs and associated labor is eliminated when using ERIFLEX FLEXIBAR. It is the first cost effective alternative to diameter electrical cable with lugs or solid busbar for panelboard construction.
Applications
Any low voltage cable or busbar design is a candidate for ERIFLEX FLEXIBAR, including :

UPS Systems


Industrial & Commercial Motor


Controls


Combination Motor Starters


Busways or Busducts


Panelboards


Switchboards


AC & DC Drive Units


Transformers


Anywhere cable or busbar limitation present a problem, FLEXIBAR offers connection versatility
Custom ERIFLEX FLEXIBAR
Custom part fabrication with ERIFLEX FLEXIBAR is relatively easy and can be accomplished with standard tools. For small quantities, ordinary hand tools are adequate. When fabricating large quantitites dedicated production tooling is more cost-effective